For english scroll down - pour le français défiler vers le bas - für deutsch nach unten scrollen
Marcia Bamberg Swing Quartet album
debuutalbum release
Op 13 november 2022 heeft het Marcia Bamberg Swing Quartet haar debuutalbum 'Smile' uitgebracht. Het album bevat 12 romantische en swingende Engels- en Franstalige nummers. Het album is mede mogelijk gemaakt door SENA en is te beluisteren op de volgende streamingsites: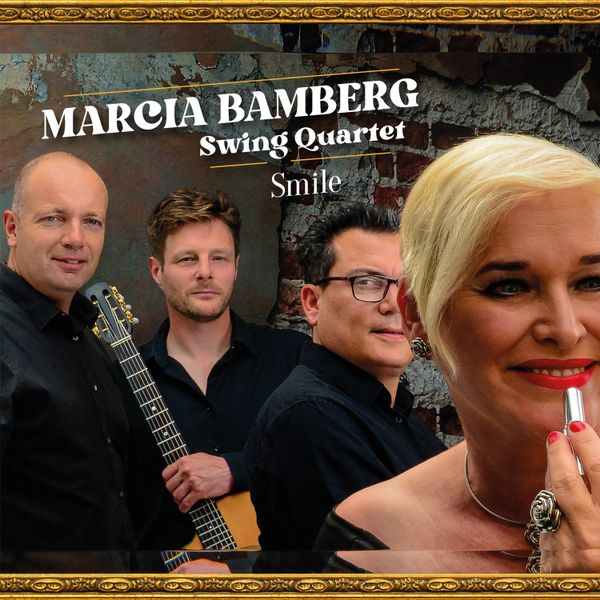 *On November 13, 2022, the Marcia Bamberg Swing Quartet released its debut album 'Smile'. The album contains 12 romantic and swinging English and French songs. The album is made possible in part by SENA and can be heard on the above streaming sites. 
*Le 13 novembre 2022, le Marcia Bamberg Swing Quartet a sorti son premier album 'Smile'. L'album contient 12 chansons anglaises et françaises romantiques et entraînantes. L'album est rendu possible en partie par SENA et peut être écouté sur les sites de streaming ci-dessus. 
*Am 13. November 2022 veröffentlichte das Marcia Bamberg Swing Quartet sein Debütalbum "Smile". Das Album enthält 12 romantische und swingende englische und französische Songs. Das Album wird zum Teil durch SENA ermöglicht und kann auf den oben genannten Streamingseiten gehört werden.
Quintette album review
Het album 'Smile' is nu ook uit op vinyl en CD en kan hier besteld worden!* 
*The album 'Smile' is also out on vinyl and CD which can be ordered here!

*L'album 'Smile' est également sorti en vinyle et CD qui peuvent être commandés ici !

*Das Album 'Smile' ist auch auf Vinyl und CD erschienen, die hier bestellt werden können!
audio
0:00/3:19

0:00/3:56

0:00/2:13

0:00/3:21

0:00/2:48

0:00/2:39

0:00/3:36

0:00/2:47

0:00/3:44

0:00/3:45
Django Reinhardt festival 2023
Jam session with paulus Schäfer